BGMI 1.7 Update – Release Date, Features, Rewards, & Patch Notes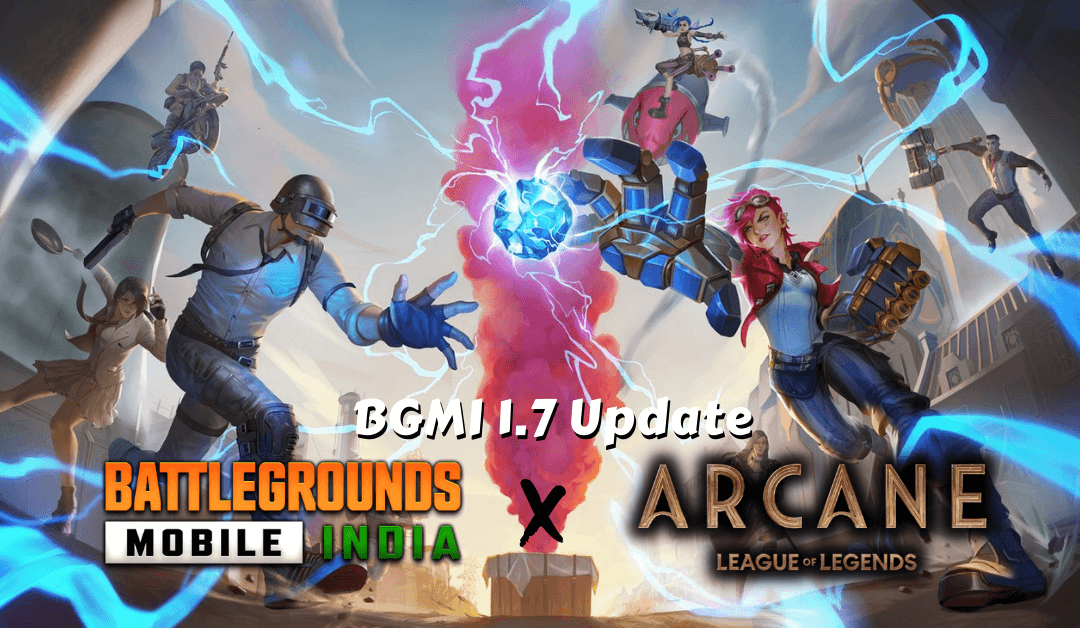 Hope you all enjoying the new BGMI's 1.6 – Flora Menance Mode update. The publisher of Battlegrounds Mobile India has now confirmed the next update to be released on November 19, 2021. It also announced the collaboration with the newly released Animated web series on Netflix called "Arcane – League of Legends". It is one of the most brilliantly crafted animated web series on Netflix and it is now available on BGMI. Let's see in detail about the BGMI 1.7 update, its release date, patch note, features, rewards, and many more.
BGMI 1.7 Update Release Date
The new BGMI update version 1.7.0 is expected to release on November 16 or November 17 of 2021. Since the update is around Christmas and New Year, the update mostly focuses on some Winter themes.
Update Version – BGMI 1.7
Publisher – Krafton
Release Date – November 19, 2021
Available Device – Android (Play Store) & iOS (App Store)
Update Size – 700 MB (Expected)
BGMI 1.7 APK + OBB – Tap Tap.io, APKPure, Uptodown
New Features in BGMI 1.7 Update
Here are some of the most expected new features, modes, vehicles, weapons, outfits, rewards, and more in BGMI.
Theme Mode – Mirror World
The Mirror world will be available as a theme on Livik, Erangel, and Sanhok.
Mirror Island
Mirror Island is an exclusive location on the map available only on the Mirror world theme of Erangel map. Here if you are killed or finished, you can be able to respawn immediately.
Wind Barrier
Wind Barrier is like a portal from which you can port from Erangel map to Piltover Mirror Island or Zaun Mirror Island which are the island in Arcane. Upon entering the island you will become one of the following characters in Arcane namely Vi, Jinx, Jayce, or Caitlyn. Each of these characters has a unique skill and weapon using which you can kill the arcane monsters.
Character Transformation
Upon landing on the Piltover Mirror Island, you will be converted to any of the Arcane characters. If you don't like the character you can change it with the Transformation device. The Island will be available only for a limited period of time.
Hextech Crystal
It is a new collectible in Battlegrounds Mobile India which you can find throughout Erangel map. This crystal can be exchanged for various items for your battle via Dynahex Supply Shop.
Arcane Monster
Just like Hextech Crystal, the Arcane monster is also found widely across the map which you can kill easily to get supplies.
Piggyback (Carry) Feature
You can carry and put down your knockdown teammate anywhere across the map.
Survivor Number Notification
Survivor number will be notified after completing every zone and report your survival status.
Smoke Grenade Effect Improved
Upon throwing the Smoke it will create a realistic arc-like smoke effect while jumping on the ground.
Grenade Indicator
Will indicate a red grenade icon symbol blinking on the screen if any grenade was thrown towards you.
AI Battle Based on Difficulty Level
Now you can battle with AI by setting up the difficulty from Easy to Hard and this VS AI mode is still in Beta.
BGMI Mode – Comeback
Metro Royale – Available from 22/11/2021
Survive Till Dawn – Available from 25/11/2021 [Thrusday/Friday/Saturday]
Virus Infection – Available from 25/11/2021 [Thursday/Friday/Saturday]
Payload 2.0 – Available from 29/11/2021 [Monday/Saturday/Sunday]
Runic Power – Available from 30/11/2021 [Tuesday/Wednesday/Saturday]
Vikendi – Fall season Update (Snow update)
BGMI 1.7 Expected Collaboration
These are some of the speculated collaborations in BGMI 1.7 update. The collaboration of Dune and Alan Walker has happened as an event in BGMI. The remaining may or may not be happened.
Battlegrounds Mobile India X Jujutsu Kaisen
Battlegrounds Mobile India X Zaha Hadid Architects
Battlegrounds Mobile India X Alan Walker
Battlegrounds Mobile India X Dune
Battlegrounds Mobile India X Mahjong
Battlegrounds Mobile India X Jujutsu Kaisen
Jujutsu Kaisen is a popular anime web series on Netflix that has been launched in 2020. This anime series is a huge hit among the common audience and manga/anime fans. With Jujutsu Kaisen Collaboration, we can expect some groundbreaking visuals and stunning animation in the forthcoming BGMI update.
Battlegrounds Mobile India X Zaha Hadid Architects
Zaha Hadid Architects is a British design and architecture firm that has created some jaw-dropping architecture and design structures around the world. Some of the famous Zaha Hadid architectures are Alijada Central Hub (UAE), Casa Atlantic (Brazil), Cardiff Bay Opera House (Wales), Beijing Daxing International Airport, and many more. With this collaboration, we can expect some stunning virtual architecture and design within BGMI which is going to blow your mind like never before.
Battlegrounds Mobile India X Alan Walker
Alan Walker's collaboration is not new to BGMI or PUBG Mobile (PUBGM). Last time, this duo collaborated and released an amazing album song named On My Way which has been heard and sung by every PUBG Mobile player. BGMI has been returning lots of game modes back like the Metro Royale, Payload, Titan Strike, Zombie Mode, etc. They also geared upon bringing back the Alan Walker with some amazing music album for our lobby, car driving, chasing, etc.
Battlegrounds Mobile India X Dune
Dune is the most anticipated Hollywood Sci-fi/Adventure movie in India. The movie is packed with some amazing cast like Zendaya, Jason Momoa, Dave Bautista, Rebecca Ferguson, Timothée Chalamet, and many more. It is directed by Denis Villeneuve based on the 1965 Frank Herbert novel. In this collaboration, we can expect lots of new areas on the map (probably the Miramar map) that depicts the movies along with some amazing wardrobes and items from the movies.
Battlegrounds Mobile India X Resident Evil 2
This BGMI 1.7 update also has a new event mode for a limited time period in Erangel that has something exclusive Zombie from Resident Evil 2 in action. The new game mode with Resident Evil 2 collaboration is named Survival Till Dawn 2.0. In this mode, you also have access to new and powerful RPG mission guns to fight the herd of Zombies.
Battlegrounds Mobile India X Mahjong
Mahjong is a tile-based game played by four players. The setup time of Mahjong takes about 5 minutes and the gameplay time varies based on the variation and rule you imply. In the upcoming update, BGMI is about to collaborate with the Mahjong creator and bring a new Mahjong mode to the existing map. In the Mahjong mode, we can collect tiles, and using the tile we can redeem items in the classic games and many more.
Expected Features (Officially Denied)
Emergency Pickup
Hyundai Pony Coupe Car
K2 Assualt Rifle (AR) Gun
AS-VAL Gun (5.56mm)
Blue Zone
C1S3 – Royale Pass M5 & M6
WindShield for Car
Speedometer in Car
Ferry in Erangel
The ferry is a new ship that is located on the coast of Novorepnoye which moves after a certain period of time waiting on the shore.
Hide and Seek Mode
Light and Shadow Adventure Mode (New park in Prison)
Little Moon in Sky
New Bike and Laser Gun with Drive-By
Staff as Melee
Flying Cloud
Tank in Airdrop
Mission Ignition 3.0, and many more
BGMI 1.7 Update APK + OBB
These are some of the updates which are possibly available on Battlegrounds Mobile India. The BGMI 1.7 APK + OBB is not yet officially released for the Beta test. Once the BGMI 1.7 APK is available, it will be uploaded to our Telegram channel.
Stay tuned to our site for more BGMI updates.