BGMI x Bugatti: Krafton Partners With Bugatti for Battlegrounds Mobile India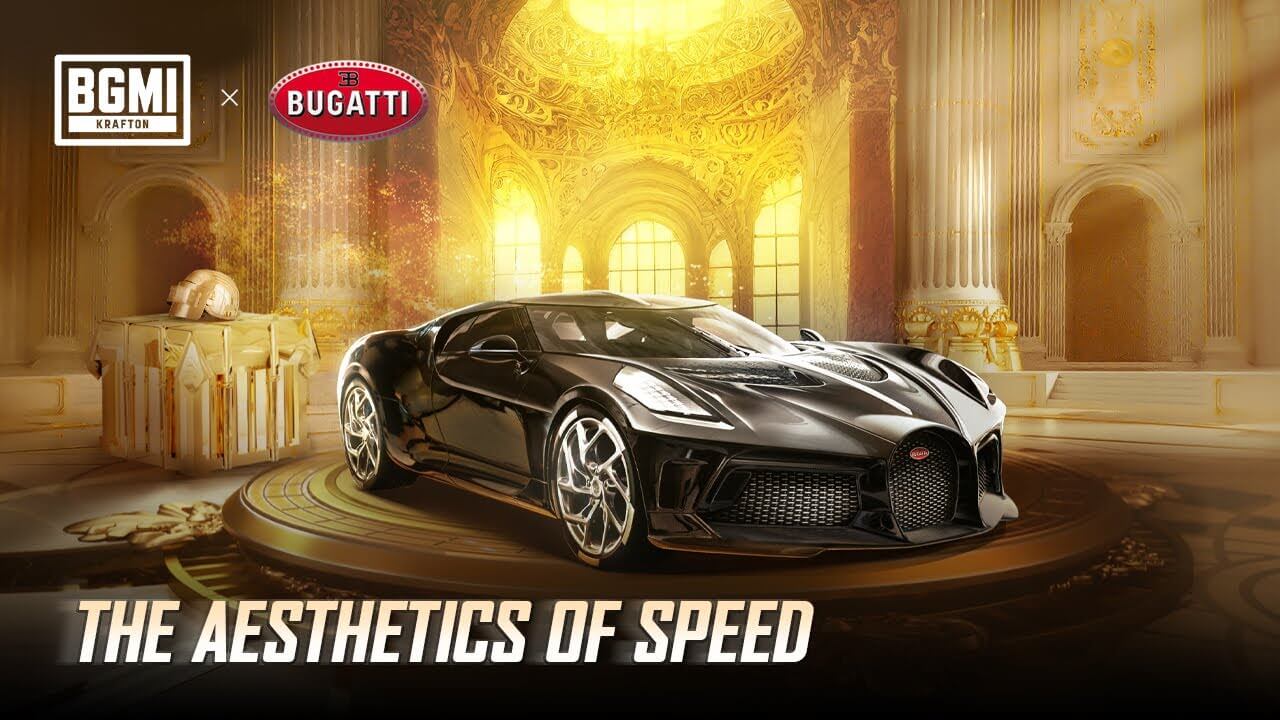 BGMI x Bugatti: Krafton has made an exciting announcement that they have collaborated with Bugatti. Owing to this, BGMI players can enjoy driving hypercars in their favorite maps they play. Bugatti Veyron 16.4 Grand Sport Vitesse and Bugatti La Voiture Noire will be available to drive in the game. Additionally, Bugatti-themed Ornament and Parachutes will also be available.
Since it is a limited-time event, we suggest BGMI players make use of this great opportunity immediately. The BGMI x Bugatti event has already started on June 20, 2023, and is valid up to August 06, 2023. During this event, players can also earn rewards by completing in-game missions. You can unlock new vehicle skins and other items using your UC. For this, you need to collect Bugatti Lucky Badge which is available on Levels 7 and 8.
Bugatti Veyron 16.4 Grand Sport Vitesse is the fastest hypercar in the world. It has an unbelievable world record clocking a speed of 408.84 kmph.
Bugatti Skins Available Right Now
The following are the Bugatti skins that can be purchased using badges.
Bugatti La Voiture Noire

Classic (Black) – 1 Bugatti Lucky Badge
Alloy (White) – 1 Bugatti Lucky Badge
Warrior (Red) – 3 Bugatti Lucky Badges
Bugatti Veyron 16.4 Grand Sport Vitesse

Default (Blue) – 1 Bugatti Lucky Badge
Gold (Gold and Black) – 1 Bugatti Lucky Badge
Shining (Rainbow and Black) – 1 Bugatti Lucky Badge
Rules for BGMI x Bugatti
During this event, there are certain rules that players need to be followed.
Speed Bonus: After you accelerate a car, you will get rewards including a speed boost based on your driving skill. Ensure to accelerate whenever you want to reach a maximum speed.
Collect Rewards: BGMI players can collect rewards upon completing missions. Remember that, a reward item will be provided only once. If you have collected all reward items, players will further receive lucky vouchers to upgrade vehicle skins.
Normal Acceleration: You can use this option if you want to speed up for free. It won't be available when the round gets finished.
Accelerate Safely: BGMI players will get 3 chances to increase the acceleration. You can unlock this feature by spending a UC. The speed boost varies on the amount of UC you spend.
Start: 60
Speed 1: 60
Speed 2: 180
Speed 3: 500
Speed 4: 1000
Speed 5: 2500
Speed 6: 5800
Speed 7: 7200
Failure: If you fail to accelerate in your attempts, it will drop your speed by 1-2. You can still gain a Lucky Voucher if you drive faster after the speed drop.
If you are crazy about M416 Glacier Skin in BGMI, you can still get it by completing the in-game missions.