BGMI 1.6 Update [Flora Menance Mode] – Release Date, Features & Patch Notes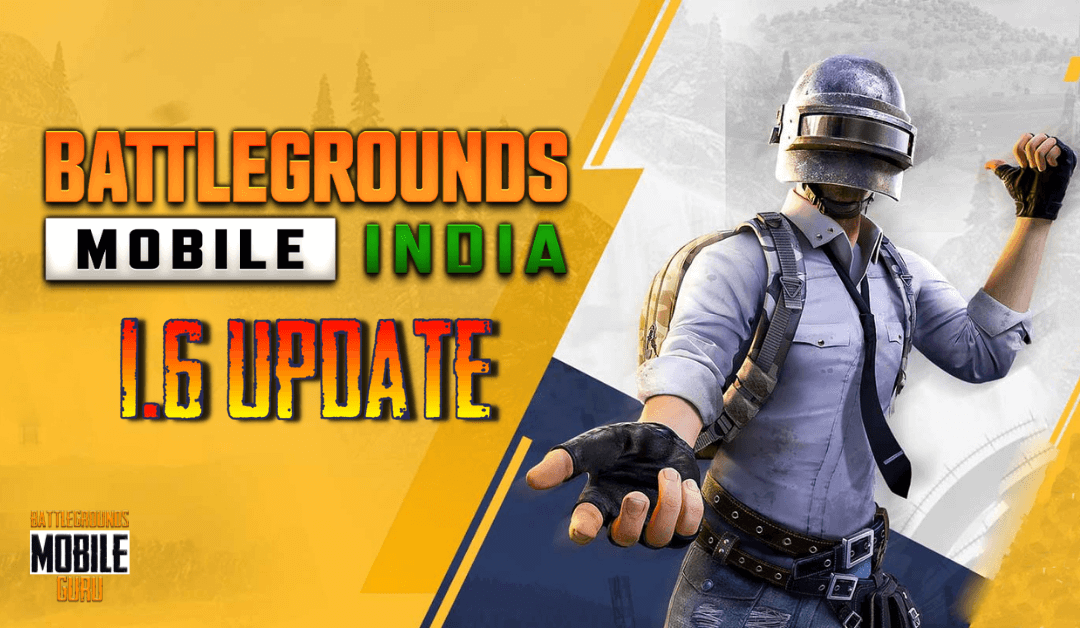 Battlegrounds Mobile India 1.6 Flora Menance Mode update is expected to launch between September 16 to September 20 of 2021. Like BGMI 1.5 Update, v1.6 has surprisingly lots of new features, events, items, and more for gamers. The 1.6 Update in PUBG has been launched as a Beta version for lots of users in America and several parts of the world who are registered as Beta testers. In the upcoming article, let's see about the BGMI 1.6 update patch note and how to register as a beta tester to get early access to the new update of BGMI.
BGMI 1.6 Update [Flora Menance Mode] – Release Date
As we said earlier, we can expect Battlegrounds Mobile India 1.6 Update to release on September 16-20. We will update you once the official date was revealed by Krafton.
BGMI 1.6 Update – New Features
Flora Menance Mode
Matrix Arena Event
Dragon's Breathe Grenade

Quad Bike

In-Game Spaceship
Vikendi 2.0
New Welcome Screen Theme

Payload 2.0

Infection Mode
Survival Till Dawn
Metro Royale
Ignition Mode 2.0
New German Shepherd Companion
New Basic Settings
Improved Graphics and Sound
Show Route Option Added to the Map
Merge Crouch & Prone
Capture Highlight Moments
New Arena Battle Guns
Improved UAZ and Bus Durability
Flora Menance Mode(BGMI 1.6.0)
Flora Menance Mode is the new mode or theme in Battlegrounds Mobile India with lots of new features and is available on the following maps: Rangel, Livik, and Sanhok.
Cell Matrix Robot – Cell Matrix Robot is a area in the map where you can fight with Robots to get loot. Here if you get killed will affect the game rating.
Zillion Matrix Cell – If you enter the cell and activate it, you will fly up in air and enter into a new mode of game where you can kill robots and get loot & Nacore. Even if you die in the cell, it won't affect in the game rating.
Dynahex Supply – Dunahex Supply is new supply crate/drop where you can see the items collected Nacore from the cell combat. This Nacore can be collected as actual item as show by tapping on Send Order and you will receive the item from Tesla supply crate like drop.
Air Conveyor – Air Conveyor is the same flying pod available in the Ignition mode where you need to enter the pod and launch yourslef to fly up in the air to easy navigation within the map.
Matrix Arena Event
Matrix Arena is the new themed event of BGMI 1.6 that is applicable on the Erangel map which comes with lots of new things like Quad Bike, Dragon's Breathe Grenade, Spaceship, Life Barrier, and many more. Also, it has separate Matrix events to gain some exclusive rewards.
Dragon's Breathe Grenade
Dragon Breathe Grenade is the new type or variant grenade in BGMI that spits fire after exploding which is more effective and deadly. This is found only within the Matrix Arena mode in Erangel.
Quad Bike
Quad Bike is the new two-seater biker that was about to launch in Battlegrounds Mobile India. The Bike may be available in Matrix Arena for a limited period of the event or found wearing in the Miramar map (unclear).
In-Game Spaceship
Just like the Pharoh floating temple, you will have a spaceship with lots of loots in it. After 3 minutes of the game, the spaceship will start flying in the air and roam around the Erangel map. You can jump anytime with the automatic parachute on.
Vikendi 2.0
Since Vikendi 2.0 has been removed from the game because of less amount of user interactive the publisher has removed the map. This time the map has been removed completely with lots of new weapons, snow vehicles, and more which are not announced yet. Check this space regularly for detailed updates.
New Welcome Screen Theme
Since the new theme is based on some spaceship, you will have a new home screen with a spaceship around in the background. This theme will be provided for every user for free for a limited period of time.
Payload 2.0
Payload mode is one of the mode popular modes on PUBG Mobile once. Now the payload mode has been updated and renewed as Payload 2.0. The time the weapons are getting even more bigger and powerful. Also, you can find cars with weapons fixed in them and more.
Infection Mode
Infection Mode is the new zombie mode where you need to shoot zombies with a gun provided with unlimited ammo and unleash the monster zombie. Finally, you need to kill the monster zombie to complete the game.
Survival Till Dawn
Survival Till Dawn is another zombie mode update that was about to be available on BGMI 1.6 version. Here you need to survive the game without getting infected by the zombies till Dawn (first light of day or sunrise).
Metro Royale
Metro Royale is another mode that takes you to the new game window where you can play a new game & event to get the new reward and points which does not add to your actual game rating. It's like an underground game mode.
Ignition Mode 2.0
Recently BGMI in collaboration with Tesla Corporation has launched the new Ignition mode with Tesla cars, Tesla center, and more futuristic buildings. This update has received an amazing response from the game. So they have planned to extend it to Ignition Mode 2.0 with even more futuristic updates and features like more Tesla model cars, Tesla Fire Thrower, underground car tunnel, and more.
New German Shepherd Companion
In the Battlegrounds Mobile India 1.6.0 update, we also have a new companion which is a dog of breed German Shepard. The dog comes with some amazing emotes that trained dogs would perform. Also, it also has two outfits named German Shepherd Jacket and German Shepherd Battle Set. This outfit can hold some extra items apart from the bag in-game like ammo, med kit, energy drinks, etc.
New Basic Settings
The basic Settings panel has been updated to three different sections.
Aim and Tap to Fire
Advanced and Features
Privacy and Social
Improved Graphics and Sound
Game Graphics has been improved in a more realistic way with lots of details in the sky, sun flare, texture, and more in maps. In Character, Punch animation has been changed to very much realistic. A new sound for headshot has been introduced to difference the shot between body and head. Also, we have faster scope adjustment. New Alert animation sound has been added.
Show Route option Added to the Map
This feature helps you find in which way the flight has been traveled at the beginning of the game anytime by checking the Show Route circle.
Merge Crouch & Prone
Merge crouch and prone allows you to combine both crouch and prone action under a single button. One tap for crouch and a long tap for Prone. This can be changed from the basic settings.
Capture Highlight Moments
Now you can capture all the highlighting moments on your gameplay automatically by turning on the Highlight Moments option under Advanced Features settings. With these features turn on, you won't miss any of the key moments in your gameplay. Most importantly, this feature is a lifesaver for BGMI (Battlegrounds Mobile India) content creators and streamers.
New Arena Battle Guns
In Arena Mode, the guns count has been incremented by adding three new guns: P1911, FAMAS, and MG3 Light Machine Gun. Also, now in training mode, there is no need to pick the ammo just pick the gun and start firing. You will be provided with unlimited ammo in Training mode.
Improved UAZ & Bus Durability
The UAZ and Bus durability has been increased, so you can go to combat with your vehicle and withstand a longer duration than before.
How to Apply for Beta Tester/Beta Program in BGMI (Battlegrounds Mobile India) for Early Access of Every Update
[1] Go to the following website: https://play.google.com/apps/testing/com.pubg.imobile on your smartphone or PC with the BGMI downloader Google or Apple account.
[2] Click on Join Beta Program to join as a Beta tester.
[3] Clear the Cookie and cache on your Google Play Store or Apple App Store.
[4] Now go to the BGMI page in your device store.
[5] Update the app with the Beta version of the BGMI 1.6 version.
You can also download the APK file of BGMI 1.6 along with the OBB file from our Telegram channel
Using the link download the APK of the latest version of Battlegrounds Mobile India (version 1.6.0) for free even if you are not a beta tester or unable to join the beta program because of the maximum number registered. You can also download the APK of BGMI 1.6 update on Tap Tap or various other APK stores online. Make sure the store is legit before downloading any APK on your device.
Thank you for reading the article. Hope you are having fun playing and experiencing the latest BGMI 1.6 version. If you have any queries, let us know in the comments section.