How to Enable Quick Scope Switch in BGMI [Battlegrounds Mobile India]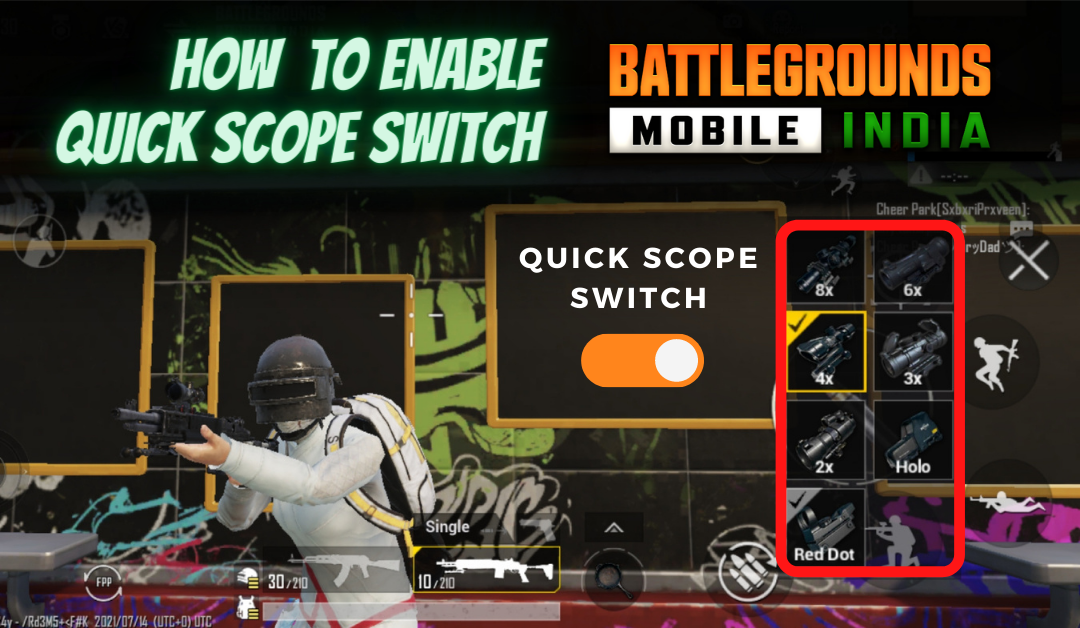 The quick scope is a feature that enables you to switch scopes instantly without opening your bag. It is one of the most useful features which every gamer should enable on their device. Before this update, we need to open the bag and drag the scope from the collected item or from another gun to the required gun. But with this feature activated, you can switch scope on any weapon quickly with a click. Here is how you can enable the Quick Scope switch in BGMI.
Step to Enable Quick Scope Switch in BGMI
[1] Launch Battlegrounds Mobile India on your smartphone.
[2] Click on the Up arrow icon from the bottom right corner of the home screen.
[3] From the expanded menu, click on Settings.
[4] Go to Scope settings from the right panel.
[5] Turn on the toggle next to Quick Scope Switch.
[6] You will have the Quick Scope Switch icon in your game found below the Map.
Note: You can be able to customize its position directly from the Controls settings.
After enabling the switch scope from the settings, you can equip the scope available from your bag or another weapon. Also, you can unequip the scope by tapping on the equipped scope. It only shows the scope that the gun can equip in it.
Advantage of Quick Scope Features
This quick scope feature helps you improve your combat in both short and long-range by changing scope according to the need.
Save your time on going through the bag for scope.
It shows only the possible scope that can fit your weapon.
Enable you to switch scope between your available guns.
Tap on the equipped scope to drop it back in your bag.
Even though you have all the scope available in your bag, it is important to have the best sensitivity settings to make use of it perfectly without any recoil or shakiness. Check out our article on the best Sensitivity Settings to improve your weapon skills.
BGMI Extras
BGMI has announced its first-ever eSport event "India Series," Live on the official website. More details about the event will be updated soon.
Thank you for reading the article. Hope you have found the right direction to enable and turn on the Quick scope settings on your Battlegrounds Mobile game. If you have any queries, let us know in the comments section below.