How to Get Permanent Dune Parachute in BGMI for Free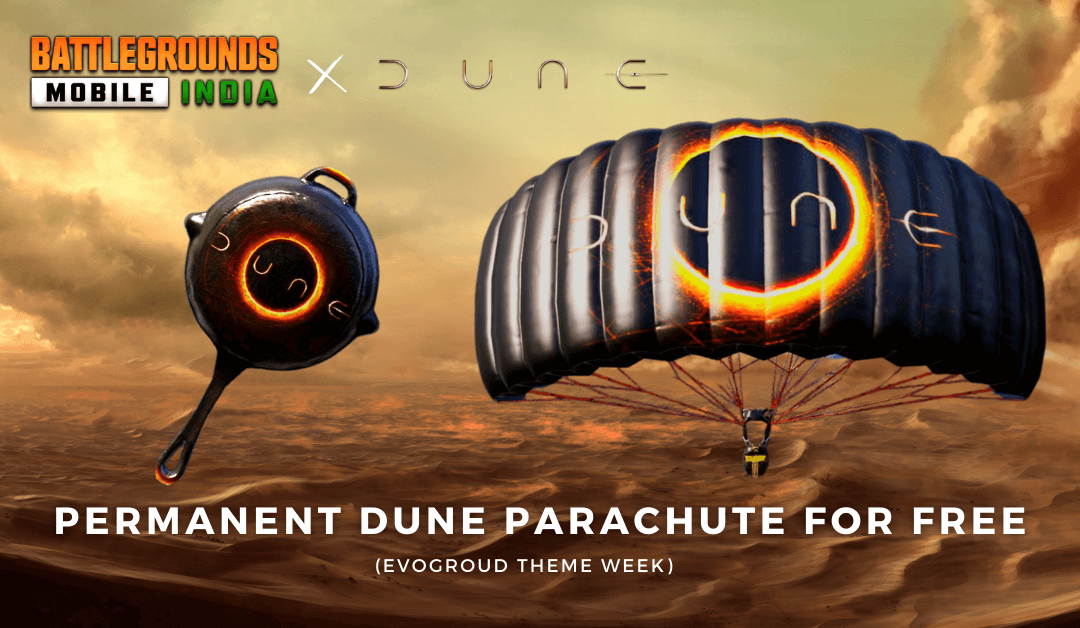 Battlegrounds Mobile India is one of the largest playing online games in India with millions of active users every day. Because of its popularity and reach among users, you can see lots of promotions and collaboration happening in the game with major films, series, brands, and many more. Right now, BGMI has been collaborating with the most anticipated star-packed sci-fi movie "Dune" and offers some exciting rewards like RP points, Pan Skin, and Parachute. In the upcoming, let's see how to get the permanent Dune parachute and other rewards in BGMI.
Battlegrounds Mobile India X Dune
Battlegrounds Mobile India X Dune is an Evoground themed weekly event where you need to participate in any of the available Evoground modes to win the rewards. The event is happening for a limited time period between 22/10/2021 to 16/11/2021. Continue reading to know more about the EvoGround Theme Week.
Event – Evoground Theme Week
As the name itself say it is an Evoground Themed event, you need to play the mission in evogrounds mode to get the reward. Right now, there is only one event available in Battlegrounds Mobile India (BGMI) which is Survival Till Dawn. Just like the event, this Evo ground mode is available only for a limited period of time. This event happens in the Erangel map with additional storage of 28.8 MB.
Missions & Rewards in Evoground Theme Week
Here is the list of missions and their reward in Evoground Theme Week
Play any mode in EvoGround 5 times – 50 RP Points
Play any mode in EvoGround 10 times – Dune Pan (3 Days)
Play any mode in EvoGround 20 times – Dune Parachute (Permanent)
Where to Find Evoground Theme Week in BGMI
[1] Go to the Events from the home screen.
[2] Tap on Recommended section and choose EvoGround Theme Week.
[3] Here, you can find all the missions in the Evoground Theme Week event.
[4] Upon completing the mission, click on Go to collect the reward.
Apart from these events, there are various other events happening in BGMI like
Alan Walker Login Event
Happy Diwali 2021 Offer2, etc.
Hope this guide helps you get the permanent Dune parachute, Dune pan, and 50 RP points in BGMI for free. If you have any queries, let us know in the comments section below.