How to Get Rock Star Mini14 Skin in BGMI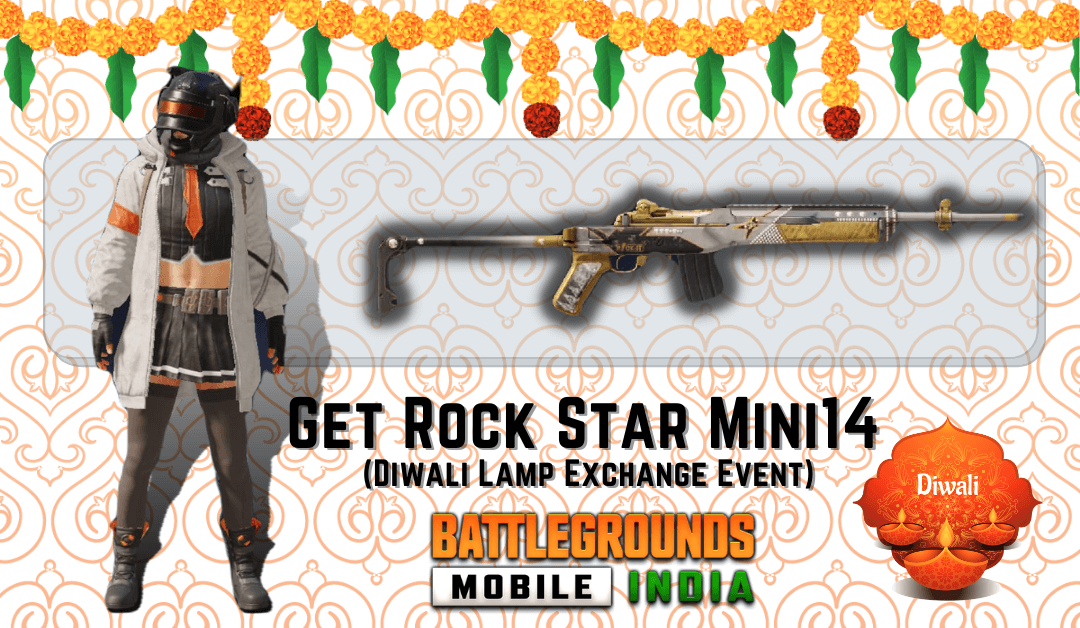 Every season in Battlegrounds Mobile India has at least two events happen with lots of rewards and prizes. Likewise, BGMI has been loaded with tons of events and collaborations for this Diwali. One such Diwali Event that happens most actively in Battlegrounds Mobile India is the Lamp event. This event represents the upcoming Diwali festival where you need to collect the lamp to receive various rewards like coupon scrap, outfits, and most popularly the Rockstar Mini14 skin. In the upcoming article, let's see how to get rock star mini14 skin in BGMI.
How to Participate in Diwali Event (Lamp)
In Diwali Lamp Event, you can win a Rock Star Mini14 gun by participating and completing various missions. Upon completing the mission, you will get the lamp as a reward. Later, these lamps can be exchanged for various items like outfits, skin, AG, coupon scrap, BP, etc. This event is available from 20/10/2021 to 10/11/2021. Here is the list of missions, you need to complete to get the lamp.
Play any mode 5 times with Friend(s) – 30 Lamps (refreshed daily)
Play Classic Mode 20 times as a squad – 100 Lamps
Play Classic Mode 40 times as a squad – 200 Lamps
Play Classic Mode 60 times as a squad – 300 Lamps
How to Complete the Diwali Event
Gather your friends in the lobby and play Classic Modes.
Play classic modes frequently to collect the lamp rewards.
Number of kill or performance doesn't matter for this event.
Don't waste the lamp on collecting AG, Thrill ride BP crate, or classic coupon scrap.
Play atleast five matches per day in classic mode to collect the daily 30 Lamps.
Don't forget to exchange the collected Lamps in the exchange center.
If you miss the exchange, the lamp will be dismantled at the end of the event (10/11/2021)
How to Collect the Rock Star Mini14 from Lamp Exchange Center
[1] Launch BGMI on your Android/iPhone.
[2] After collecting 700 Lamps, go to the Events section from the home screen.
[3] Go to Recommended section and tap on [Lamp] Exchange Center.
[4] Here, tap on Redeem next to the Rockstar Mini14 skin.
[5] That's it. The Rock Star Mini14 skin will be added instantly to your inventory.
Other items in Lamp Exchange Center
Here is the list of items and the required number of lamps to collect the item from the Lamp exchange center.
Rock Star Mini14 – 700 Lamps
Cool Cat Set – 500 Lamps
Cool Cat Headband – 200 Lamps
Supply Crate Coupon Scrap – 10 Lamps
Classic Crate Coupon Scrap – 10 Lamps
AG – 10 Lamps
Thrill Ride BP Crate – 5 Lamps
Thank you for reading the article. Hope this guide helps you get the Rock star Mini14 skin for free in BGMI. If you have any queries, let us know in the comments section below.