How to Reach Ace Tier in BGMI [Battlegrounds Mobile India]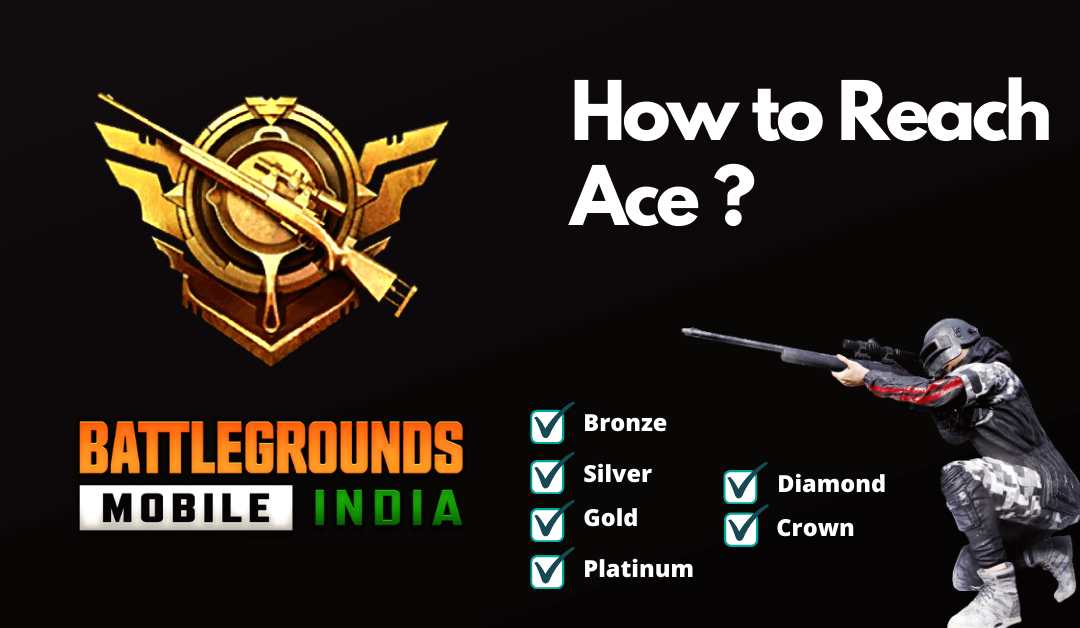 In Battlegrounds Mobile India, every player will be ranked based on the tier. There are several tiers in BGMI like bronze, silver, gold, platinum, diamond, gold, Ace, Ace Master, Ace Dominator, and Conqueror. To reach any tier in BGMI, you need to play the game continuously along with scoring some good points. Upon reaching each tier, you will be provided with some reward. In the upcoming article, let's see how to reach the Ace tier in BGMI.
Points Table to Reach Each Tier in BGMI
| BGMI Tier | Points Required |
| --- | --- |
| Bronze | 1200 |
| Silver | 1700 |
| Gold | 2200 |
| Platinum | 2700 |
| Diamond | 3200 |
| Crown | 3700 |
| Ace | 4200 |
| Ace Master | 4700 |
| Ace Dominator | 5200 |
| Conqueror | Top 500 Players |
Tips & Tricks to Reach Ace in BGMI
In Ace, there are three levels: Ace, Ace Master, and Ace Dominator. So let's how to get you up fast to Ace Tier in Battlegrounds Mobile India.
Avoid Hot-Drop Locations
To reach Ace or any other tier in BGMI, you need points. To get the points, you need to survive the most in BGMI. To survive long in BGMI, you need to drop in a location far from the flight path. Landing faraway gives you time to pick up all the required items and armory for the combat and also lets you be prepared. The longer you stay, the more the point you will gain.
Weapon Combinations
Weapon combination is another factor that you should consider while pushing for rank tier in BGMI. Here are some of the combinations that you have to prefer based on the mode of game you play
Duo – Assualt Rifle (For Close and Mid-range) and Automatic Assualt Rifle (For Mid and Long range)
Squad – In the squad, you need players with the following skills: 2 players with good AR skills. One player with good sniping skill, one with Automatic sniper rifle handler, and one driver.
Survive Long
It is important to survive long to gain more points. In order to do that, you need to play the game by avoiding the following like hot-drop, engaging fight, third-party interference, etc. Always take cover in the game, and if you hear any gun or vehicle sound, take cover in the nearest possible location.
Always Be Aware
In BGMI, it is very much important to be aware of your surrounding to avoid being snipped or killed. Use iPad view in your smartphone to get more view or coverage over the map. If you are playing in a duo or squad, always make sure to stick together and communicate with each other. Also, be aware of your inventory in your bag and make use of its wise like the smoke grenade for cover, molotov cocktail/stun grenade to slow down the enemy, and more.
Skillful Gameplay
Apart from all the above mentioned, it is important that you have enough skill to play the game and fight for survival when the situation requires it. To train yourself in BGMI, make use of cheer park, arena mode, and arcade modes, as these three modes do not come under tier ranking.
Thank you for reading the article. Hope you have successfully reached the Ace tier in Battlegrounds Mobile India. If you have any queries, let us know in the comments section below. For more tips and tricks, follow our Telegram channel.