How to Reach Conqueror Tier in BGMI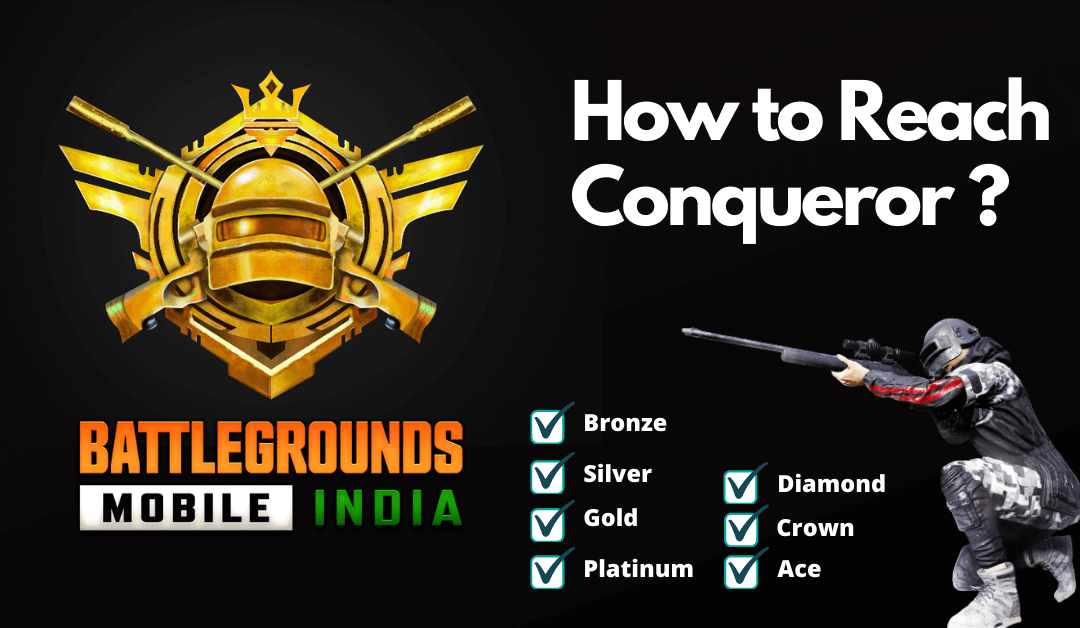 Battlegrounds Mobile India is all about survival, rank, and tier upgrade. There are eight different tiers in BGMI: Bronze, Siler, Gold, Platinum, Diamond, Crown, Ace, and Conqueror. You need to have a certain point limit to reach each tier in Battlegrounds Mobile India. It requires lots of determination, planning, and strategies to reach the conqueror. If you are willing to push your tier to reach conqueror in BGMI, check out the guide below.
Points Table to Reach Each Tier in BGMI
| BGMI Tier | Points Required |
| --- | --- |
| Bronze | 1200 |
| Silver | 1700 |
| Gold | 2200 |
| Platinum | 2700 |
| Diamond | 3200 |
| Crown | 3700 |
| Ace | 4200 |
| Ace Master | 4700 |
| Ace Dominator | 5200 |
| Conqueror | Top 500 Players |
Tips to Reach Conqueror in BGMI
Here are some of the tips and tricks to reach conqueror in a short period of time. This process involves lots of patience, skills, determination, and dedication.
Long survival
Survival is the first thing you need to keep in mind on your mission to reach Conqueror in BGMI. Always be attentive and use eye movement to look around wherever you are. Be in cover and don't run in open space. If you are required to move in an open space, then go in zig-zag movement. Also, you can try having iPad View on your device to have better map clearance and a large perspective view.
Maximum kills
Not just survival will help you reach the conqueror tier in BGMI. You need to have an equal amount of finish ratio in BGMI. At least you need to have 5 to 10 kills in every match for better rank points. In addition, you need to have better weapon combinations, attachments, scopes, armor, and helmets for more kills.
Weapons combination
For both survival and kills, you need a better weapon combination to achieve both. Here are some of the best weapon combinations you need to have based on mode.
Duo – Assualt Rifle (For Close and Mid-range) and Automatic Assualt Rifle (For Mid and Long range)
Squad – In the squad, you need players with the following skills: 2 players with good AR skills, One player with good sniping skill, one or two with Automatic sniper rifle handler, and one driver.
Make use of vehicles
For survival and faster movement within the game, the vehicle plays a major role. It is best to travel in Dacia or UAZ (normal or closed top). Vehicles are difficult to attack, and it is easy to travel anywhere and any terrain on the map. Most importantly, the cars can be used as cover in the last zone by blasting them. Vehicles available in BGMI are
Buggy
Motorcycle
Mirando
UAZ
Dacia
Pickup
Ronny
BDRM 2
Coupe RB
Motor Glider
Map to play
It is important to play in a single map throughout the game. There are five maps in Battlegrounds Mobile India: Erangel, Livik, Karakin, Sanhok, and Miramar. Erangel is the Alpha map of the game, and the most active player will be available on the map. If you try any other map, the chance of survival and gaining points is more than the others. In all maps, drop location plays an important role. If you land on the flight line in some hot drop location like School, Pochiniki, Mylta, Georgapool, Sosnovka Military base, etc. may result in dropping some tier points.
Skillful play
It is important to play with complete awareness and a better understanding of the game. You need to know every nook and corner of the map. This understanding will help you play more cautious and skillful. Use the resource on your bag like Frag grenade, Smoke grenade, Stun grenade, etc. To improve your gun skills, use cheer park and close combat play more Arena training.
Thank you for reading the article. Hope this guide helps you reach greater ranks in BGMI. This is applicable to attain all different tiers in BGMI. If you have any queries, let us know in the comments section below.