BGMI vs Free Fire – Which One is Better?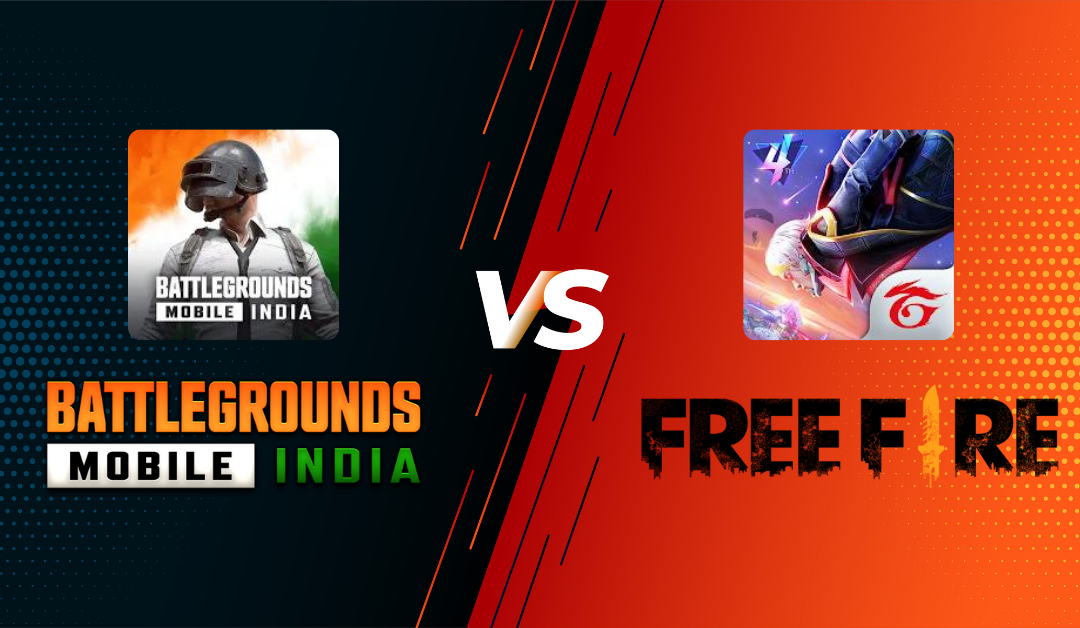 Before 2017, online multiplayer games are meant only for gaming consoles and PC. But after 2017, numerous gaming company has launched online battlegrounds multiplayer games for smartphones. It has completely changed the course of gaming to another level. Some of the popular online battlegrounds games are PUBG Mobile, Call of Duty, Battlegrounds Mobile India, Free Fire, Fortnite, etc. In India, PUBG Mobile global version has been banned and has been relaunched as Battlegrounds Mobile India (BGMI). So let's see the comparison between BGMI vs Free Fire in the upcoming article.
BGMI vs Free Fire – Comparison
Check out the comparison of BGMI vs Free Fire on various factors like
Graphics
Gameplay
Storage
Modes
Requirements
Graphics
BGMI is just a cloned version of the PUBG Mobile version, and it does not have many changes from the older version. Speaking of Graphics, BGMI offers the best in class graphics which make every character, game location, and everything more realistic than any other game.
Free Fire on the other hand offers good graphics but compared to Battlegrounds Mobile India, it looks more Animated and cartoonized. This graphics is much loved by kids and young players but adult gamers may find it more boring and unrealistic.
Gameplay
Battlegrounds Mobile India has amazing gameplay with lots of physics, detail, sound, movements, strategies, and more combined. The creator has worked a lot to bring out the best gameplay experience in a more realistic way.
Free Fire offers overall good gameplay, but there is no lot of physic and details involved. Also, the animated character is very much good but speaking of in-depth details the game needs to improve a lot more.
Storage
The Indian version of BGMI weighs about 710 MB which is a lot less than the older PUBG Mobile. Apart from these, there are lots of things that need to be downloaded like resource pack, sound pack, etc., within the game, or else you can have a full gaming experience in BGMI. Overall, BGMI storage is around 8 GB.
Free Fire is light weighted and does not consume lots of storage space on your device. It is just 500 MB from the Play store and after downloading all the resources packs, it may weigh around 2 GB which is a lot less when compared to BGMI. If you have less storage and a low-end device, Free Fire is the best choice.
Modes
BGMI offers various new and exciting modes to its users based on the season and their partner. Right now, it has been a partner with Tesla and has ignition mode where you can find the Tesla factory, Tesla Cars, and several other futuristic games. The common modes available in BGMI are
Classic Mode: Livik, Erangel, Sanhok, Miramar, and Karakin.
Arcade Mode: Quick Match, War, and Sniper Training.
Arena Mode: Team Deathmatch, Gun Game, Arena Training, Domination, and Assault.
Just like BGMI, Free Free too offers lots of modes and games that brings more excitement towards the game. Based on the season, they introduced and remove lots of new mode of game to engage its users. The common mode available in Free Fire are
Classic Mode
Ranked Game
Rush Hours
Team Deathmatch
Requirements
RAM – 2GB (minimum)
Android – 5.1.1 or above
Storage – 4GB (minimum)
RAM – 1GB (minimum)
Android – Android 4.4 or above
Storage – 1.5GB (minimum)
More Comparision
| Features | BGMI | Free Fire |
| --- | --- | --- |
| Logo | | |
| Winner Title | "Winner Winner Chicken Dinner" | "Booyah" |
| Scope Indication | No Indication for enemy | Indicated by turning scope pointer to red |
| Number of Character | 5 | 37 |
| Number of Weapons | 56 | 52 |
| Maximum Squad Members | 4 | 4 |
| Team Modes | Single, Duo, Squad | Single, Duo, Squad |
| Royal/Elite Pass Price | 360 UC (Unknown Cash) | 999 Diamonds |
| Pets/Companion | 3 | 10 |
Thank you for reading the article. If you have any queries, let us know in the comments section below.