How to Get Weapon Master in BGMI [Battlegrounds Mobile India]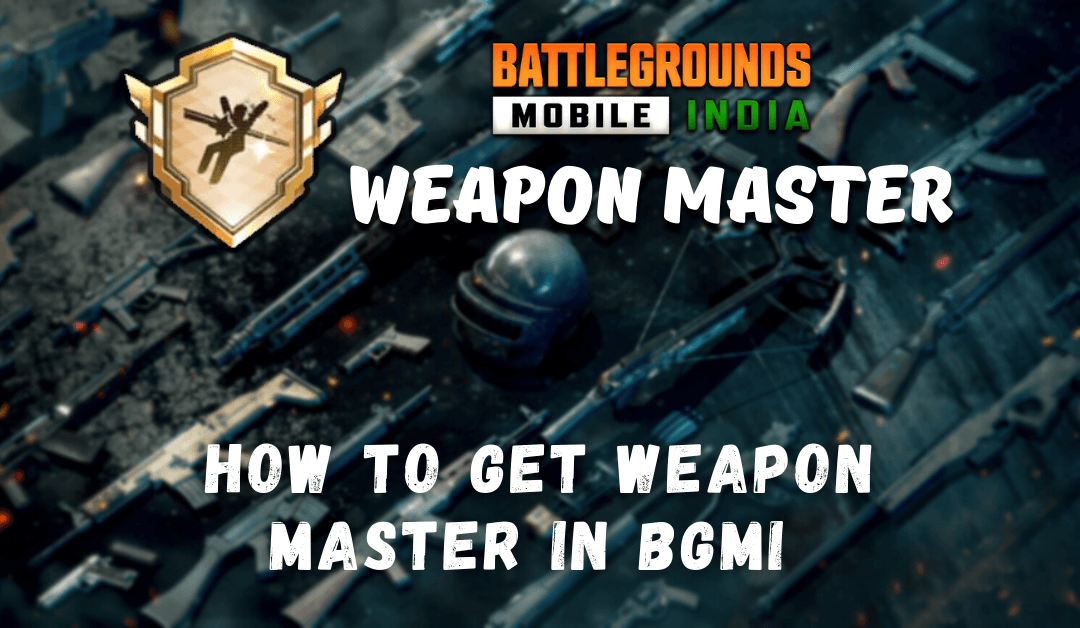 Battlegrounds Mobile India is a survival game set in a virtual world where you play among 100 other players to win a chicken dinner. BGMI is not just about playing some classic or any modes. Also, it has lots of events, missions, and more to complete to earn exciting rewards and titles. Some of the popular titles on Battlegrounds Mobile India like Weapon Master, Overachiever. In this article, let's see how to get Weapon Master Title in BGMI.
What is Weapon Master?
Battlegrounds Mobile India is a game of combat where weapons are used to finish enemies. To becomes a weapon master, one should master all the weapon categories. Here is the list of things that you have to complete to becomes a weapon master.
Player should be at Platinum tier or above
Finish an enemy with vehicles
Finish an enemy with throwables
Finish an enemy with Sniper Rifles
Finish an enemy with Assault Rifle
Finish an enemy with Shotguns
Finish an enemy with SMG
How to Reach Weapon Master in BGMI
Here are some of the tips which you can use to get the Weapon master title in BGMI. Before trying for the Weapon Master title, make sure you are at the tier above platinum. Even if you complete the mission, you won't become a weapon master.
Play with Friends
To be a weapon master, you need to play with almost all categories of weapons in Battlegrounds Mobile India. Doing this alone is not an easy job, but by having a friend aside, you can easily complete this friend.
Firstly, ask your friend to spot the enemy or bot and not to kill them.
Ask them to carry various weapons from what you have. For Example: If you have a Shotgun and SMG, ask them to carry some AR and Sniper Rifles.
Related Guide: How to Increase Merit in BGMI
Find Enemy
Every game has at least one player who goes offline or exits the game before landing on the plane. Those players will be landed automatically at the end of the flight. So jump at the end of the flight and find the weapon from the nearby shelter and kill the enemy.
Note: If there is more than one enemy, kill each with a different weapon. It falls under the weapon master task criteria.
Look For Bot
Every Game has at least 5 to 10 bots, and it is not assured that every bot will appear at your drop location. But if your friend finds one kills them will a different weapon, and ask your friend not to fire.
You can also call for the bot by going to some far location where no enemies will probably land and start shooting with your gun randomly without a silencer. It will attract the bot to your location.
Map
The map is one of the most important factors you should consider before going on this title. We recommend you to choose Miramar as it has a larger area and longer gameplay with a limited amount of players. Here, you can be hide and find more bots than any other game. If you choose Livik or Karakin, the map is small, and the amount of players under one location is very high. You can also try out Erangel, but the longer you stay, the more intense the combat, making it tougher to accomplish the goal.
Drop Location
Next to the map, drop location is another factor you should always consider while you are on the Weapon master mission. Any map you choose always lands far away from the flight line to stay from enemies.
Vehicle Kill
Vehicle kill is the toughest kill to make in the whole Weapon master mission. For this, you need to land at a very distant place and find a vehicle & roam for the bot. Even if you find any enemies roaming in the open space, you can kill them.
Throwable Kills
In Weapon master knocking an enemy is not considered a kill. It is important to blow the final bullet, and that is considered as a finish in BGMI. For the throwable kills, you can knock the enemy with any gun and finish them using the throwables like Frag grenades or Molotov Cocktail.
Weapon Kills
Other than Vehicles and Throwable, you can easily kill enemies with other listed weapons. It is important to have the skill to make the finish complete with any weapon you have. To improve your skill with various weapons on hand, try playing games in cheer parks, arenas, and to improve your skill in handling various guns.
How to Get Weapon Master in BGMI [Short Version]
[1] Make sure you are at the Platinum tier and start a classic mode with your squad in Miramar.
[2] Jump at a faraway location from the line or at the end of the flight.
Note: Don't jump at the end if it is Sea.
[3] Get two different weapons along with a pistol.
Note: At the beginning, you most probably get the Shotgun, pistols, and SMG. Complete the mission with those guns at the very beginning.
[4] Find the enemy and finish each one with a different weapon.
[5] Always be together as a squad, and don't be scattered.
[6] It is best to complete the throwable and vehicle finish in the beginning stage. In the end, it might be difficult to pull off.
[7] Ask your friends to spot the enemy or just knock them (if they are spotted in the team).
[8] Don't forget to change weapons for each kill.
[9] After all the task is done, leave the game or complete the game.
[10] Once the game end, you will be rewarded with the weapon master title.
[11] Then you can change the title from your profile settings to display on your profile.
Thank you for reading the article. Hope this tip was helpful to complete the Weapon master title mission. If you have any queries, let us know in the comments section below.