How to Change Age in BGMI [Battlegrounds Mobile India]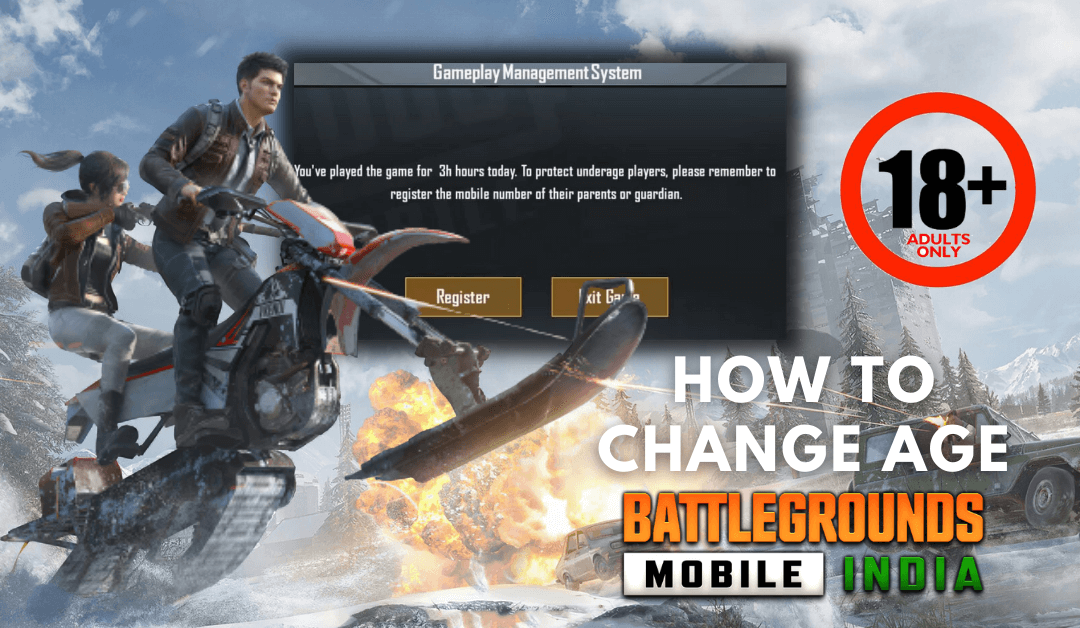 PUBG Mobile has been banned in India for various reasons that include severe violence, loss of money, addiction by kids, privacy issues, etc. In order to avoid this issue, PUBG Mobile itself alarm its users who are playing the game for a long while to take some rest. But even after taking several measures to avoid those scenarios, the game has been banned. Since the ban, the game publisher Krafton has planned to make the game a safe environment for all people. After some minor changes and revisions in accordance with the Indian government, the game has been launched in the Indian market with a new name, "Battlegrounds Mobile India."
The new Battlegrounds Mobile India (BGMI) is more like the global version but has some minor changes made in order to approve by our Indian government, like the in-game message which says, "The game is just a virtual world and not the real world," parent consent for children's under 18 years of the game, and more. But what if you have accidentally chosen no to the 18-year-old consent. No worries, we are here to guide you on how to change your age from below 18 to above 18 in BGMI.
Restriction for Children's Below 18 Years of Age
For every limited period of time, the underaged players will be asked to rest as a Health Remainder.
Children below 18 are won't be allowed to play the game for more than 3 hours time period.
Even if you try to play after 3 hours, you will be displayed with a Gameplay management pop-up notification.
Also, your parents/guardian should be registered with their phone number for parental consent.
Play under 18 years are allowed to spend up to INR 7000 per day. (the number seems a bit hefty but consider the amount you could probably spend in-game, it is for the best cause).
How to Set Up Your Age Above 18 Years in BGMI
There are two possible ways to change the age limit in BGMI. Before that, download and launch Battlegrounds Mobile India on your smartphone.
After installation, you will be asked to sign in with your Facebook/Twitter. You can also join as a guest too because we are going to transfer data from old PUBG Mobile later inside the game. Before starting the data transfer, BGMI will ask you to confirm whether your age is above 18 or not. Make sure to hit the Yes button to avoid any kind of in-game restriction.
If you are planning or starting from scratch, then log in with the new Facebook or Twitter. Upon logging in for the first time, you will be asked to confirm your age is above 18. Make sure to tap on Yes. Now you will not be restricted from any kind of under-aged restrictions.
In case if you press the No button accidentally in any of the above-mentioned methods, you can still change your age back to the original. To know how to revert the process, continue reading the article.
How to Change your Age from below 18 to above 18 in BGMI (Via Settings)
[1] Launch BGMI on your smartphone.
[2] From the home screen, tap on the Up arrow icon for the menu.
[3] Choose the Settings option from the menu.
[4] Inside, go to the Other section from the right panel.
[5] In Gameplay Management System, choose Yes next to the Age 18 or above option.
[6] You will be sent with a verification code to the registered mobile number.
[7] Enter the verification code and click on Verify.
[8] That's it. You have successfully changed your Age in BGMI.
Once changed, you can be able to repeat this process only after the one-month time period.
Hope this guide is helpful to change your age in Battlegrounds Mobile India. We also request our readers not to misuse this process and play responsibly. If you have any queries, let us know in the comments section.