How to Get Poseidon X-Suit in BGMI (Battlegrounds Mobile India)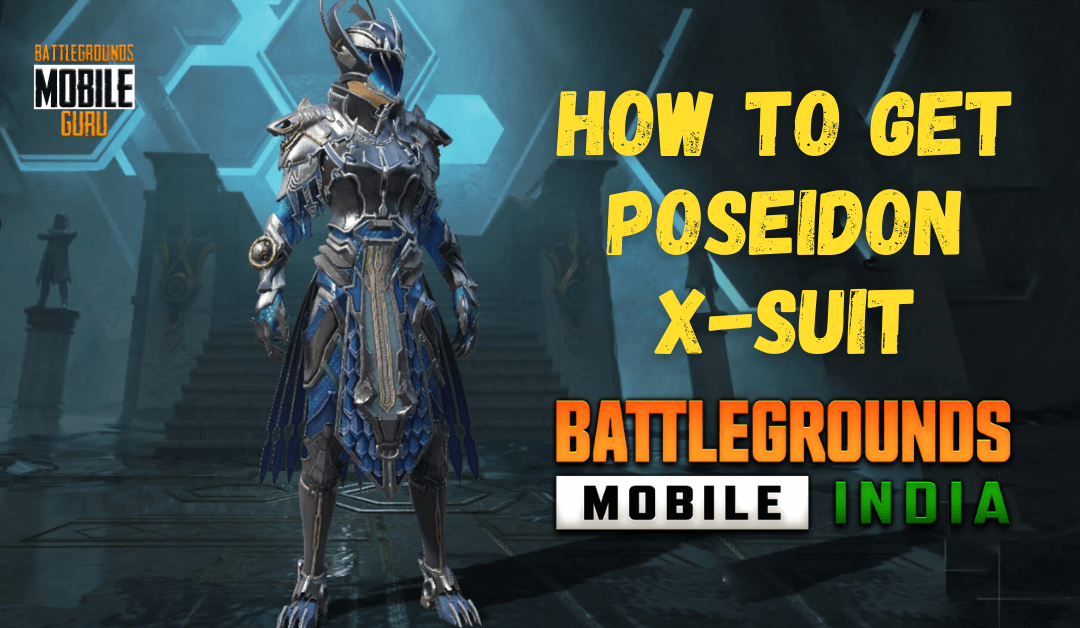 Return of Poseidon is the new event that has been launched in Battlegrounds Mobile India. In the event, you can get lots of amazing stuff to your inventory like mythic dress sets, exclusive emote, parachutes, helmets, gun skin, and many more. Among these items, there is one suit that got lots of attention among gamers. You guessed it right, the Poseidon X-Suit. The suit looks massive, attractive, and powerful. Let's see how to get Poseidon X-Suit in BGMI.
Steps to Get Poseidon X-Suit in BGMI
There is only one possible way to get Poseidon X-suit in Battlegrounds Mobile India. It is only via the "Return of Poseidon" draw event. To Participate in the event, you need to have UC. Check out our detailed guide on how to buy UC in BGMI and its current pricing.
Once you have the UC, launch Battlegrounds Mobile India on your Android/iOS device. Tap on the Return of Poseidon banner below the RP/Crate/Shop section. Now you will be shown the promo video for the Return on Poseidon event. Tap on Skip (optional), and you can draw the rewards based on your luck.
You will have five attempts that you can make using Silver. Each attempt costs 300 Silvers. If you are lucky, you may have a chance of getting the Poseidon X-Suit for free without spending any money or UC. If 5 attempts are in vain, you can still draw using UC, and this time you will definitely get the Poseidon X-Suit.
You can even draw the rewards using UC from the beginning, and drawing with UC has a higher probability of receiving bigger rewards compared to silvers. One draw cost 60UC, and for the confirmed reward, you need to have at least 300UC in your BGMI account. You can also make 10 draws in once using 600UC, which will give you a definite reward in the end.
Besides Poseidon X-Suit, you can choose various other sets like Poseidon's Ironguard Set, Poseidon's Herald Set, Lumos Daemon Set, and Lunar Witch Set which you can change according to your need.
About Poseidon X-Suit
By default, you will be provided with Poseidon X-Suit (1-Star), which is the basic appearance. You can upgrade the suit up to 6-Star that gives upgrade your suite, form, elimination broadcast, and many more.
Poseidon X-Suit (1-Star) – Basic Appearance
This is the default Poseidon suit, and you will be provided after the successful draw from the Return on Poseidon Event.
Poseidon X-Suit (2-Star) – Teammate Interaction
With 2-Star Poseidon Suit, you will share a Poseidon mask (temporary) with the teammate in the lobby and an exclusive lobby emote to use among teammates (only inside the lobby). This requires 3 Starforge Stone and 100 Star fragments.
Poseidon X-Suit (3-Star) – Advanced Form
In Advanced form, the suit will be upgraded to the next level in color and texture. It requires 5 Starforge Stone and 160 Star fragments.
Poseidon X-Suit (4-Star) – Victory Broadcast
With 4-Star Poseidon X-Suit, your elimination broadcast will be animated with the Poseidon watery effect. It requires 7 Starforge Stone and 230 Star fragments.
Poseidon X-Suit (5-Star) – Shock and Awe
Poseidon 5-Star X-Suit gives you access to an Entry emote in the lobby and another exclusive emote used in the spawn island. It requires 9 Starforge Stone and 310 Star fragments.
Poseidon X-Suit (6-Star) – Final Form
The final form is the topmost level of the Poseidon X-Suit with the most detailed and amazing textured suit. It requires 15 Starforge Stone and 500 Star fragments.
Thank you for reading the article. Wishing you all the luck to have the Poseiden X-Suit on your first draw. If you have any queries, let us know in the comments section below.