How to Unban Your BGMI Account From All Type of Ban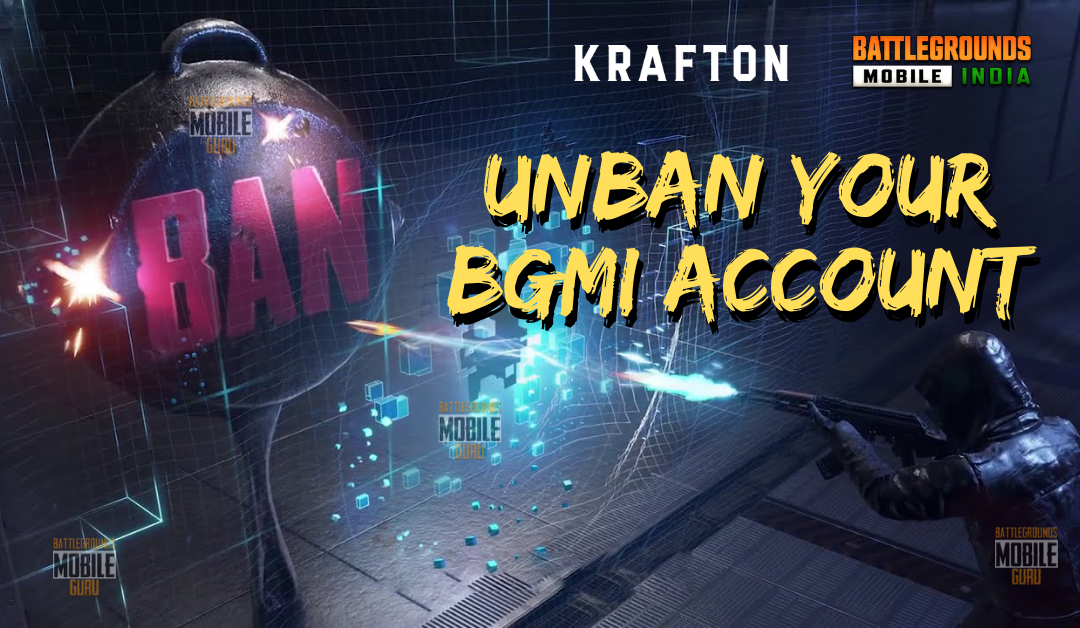 Battlegrounds Mobile India is an online multiplayer game where players fight among 100 other players for survival. The game has millions and millions of active users every day. To ensure a fair gameplay environment for every game, Battlegrounds Mobile India follows a strict Anti-cheating System that monitors cheaters/hackers in-game 24/7. Every user who cheats is banned from the game only after a detailed verification process. In some rare scenarios, innocent players get banned because of some technical error. If you are one among them, here are some of the ways to unban your BGMI account.
Reason for Account Ban in BGMI [Battlegrounds Mobile India]
Here are some of the most common reasons/activities that are considered for an instant account ban in BGMI.
Usage of unauthorized tools like hack, cracked APK, modified APK, GFX, to improvise the gameplay.
Hack/cheat used to upgrade game skills, health, and Ammo to unlimited.
Modification in the game file like being invisible, remove the grass, change the grass models in-game, etc.
Purchasing UC via some unauthorized website or payment channel.
Usage of any unofficial game client to play the game.
Squad up with cheater or hacker for multiple times.
Team up with players in other team.
Multiple reports on the account for misconduct.
How to Unban Your BGMI Account (In-Game)
If you are cheating or violating any of the game rules in BGMI, you will be notified about it and with a limited period ban and losing game points. If the violation continues, you will be banned from the game indefinitely. In case, if you are playing fair and do not violate any of the above-mentioned rules, here is how you can retrieve your BGMI account from the ban.
[1] Launch Battlegrounds Mobile India on your Android/iOS smartphone.
[2] You will be shown a pop-up notice regarding why your account is being banned.
[3] Click on Detail to view the detailed report detected by the system for the ban.
Note: Understand the reason for the ban and analyze the game & game file for any unusual files or scripts. If you don't use or have any hack or third-party application that violated the game policy, then you can file a claim about your innocence.
[4] If you are playing fair and still your account got banned, click on File Claim.
[5] Send an email to the following Email ID: [email protected] with a proper explanation about not being guilty along with your BGMI Character ID and Profile name.
[6] Your ID will be recheck for the misconduct and if you are proved not guilty and had fair gameplay, your account will be unbanned immediately.
If your account was banned because of some technical issue or mistake from the developer's side, you may be provided with some rewards.
How to Unban Your BGMI Account (Battlegrounds Mobile India Support Website)
You can also request for unban for your BGMI account via the BGMI support center.
[1] Go to Karfton's BGMI support center URL: https://help.battlegroundsmobileindia.com.
[2] Click on Contact Us on the top next to the search bar.
[3] Enter your Email ID (best to provide the mail linked to your game account).
[4] Choose the Device platform: Android or iOS.
[5] Choose the Issue as reports & banned.
[6] Select the Issue Type as Unban request.
[7] In the Describe your problem here section, type the proper justification to unban your account along with your BGMI Character ID and Profile name.
[8] You can also attach a file like a video, image, or document that proves your innocence and for faster verification.
[9] Once all entered, click on Submit.
[10] Verify you are a real person by solving the puzzle.
[11] That's it, you have successfully submitted the unban request to the BGMI support service.
This is how you fill the contact us form
Even if you cheated in the game, you can still request for unban by assuring that you won't cheat or involve in any activity that violates the game policy. If you are lucky, you will be unbanned, but all your game achievements, inventory, UC, points, etc will be removed and will provide you to have a fresh start from the same banned account.
If you are not lucky enough to get unbanned, you can create a new account in BGMI and start again from the beginning. This time do not violate any game rule and play by the game's fair play policy.
Thank you for reading the article. Hope you got your BGMI game account unbanned. If you have any queries, let us know in the comments section below.